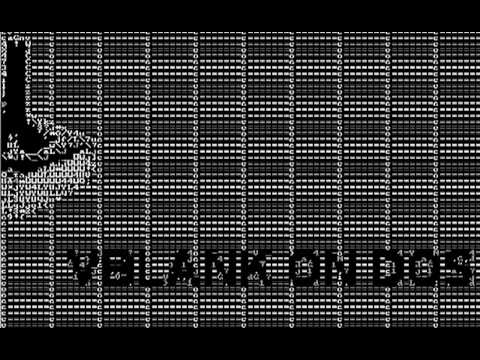 VBLANK is a live media project by Wil Lindsay. Wil lives and plays in Philadelphia, where he teaches Interactive Media at Philadelphia University. He is the first resident artist at Philadelphia's The Hacktory, and creates installation and performative visual works that can be seen regionally and throughout the country. His works deal with the contextualization of technology in our cultural and social memories.

VBLANK live video is created entirely real-time from small custom circuits and microcontrollers. The name VBLANK is derived from the code used to create NTSC video on many old game systems and the chip-based video synthesizers used for this project. In video programming, we spend the majority of our time waiting for the television's vertical blank (or "VBLANK") to happen, so that we can quickly draw things on the screen.
Blip: Before you began doing visuals, where you into doing any different types of art or music?
I've been an active gallery artist for about ten years now. For the last five years, most of my work has been interactive installation with recent major solo exhibitions in Philadelphia,PA, Lancaster, PA, Albany, NY, and Troy NY. My gallery work is in a genre referred to as "media archaeology" and is about our cultural relationship with technology. Much of it re-contextualizes dead technologies from the past such as telegraph, mechanical television, plate photography, and computers from the 70's and 80's. A lot of this work is online at www.straytechnologies.com.
Blip: How did you first become aware of the possibility of visuals, and doing them in the style that you are doing them now?
I had been working on interactive video for gallery installations when I met Don Miller a.k.a. NO CARRIER here in Philadelphia. He deeply inspired me to move that work towards the real-time chip circuits that I use now at the chiptune events. The aesthetic was a natural extension of what I was already doing in the gallery, and I can't speak enough about Don's support for my work. I suspect I'm not alone in blaming him!
Blip: How does your background influence your current work?

A brief list of past career moves will explain best: chimney sweep, blacksmith, mini-market manager, carriage driver, pretzel vendor, PBS videographer, university professor. The relationship to my visual work speaks for itself.
Blip: Where do you see yourself in the greater chip music/art visualist community?
As most of my work is coming straight from raw chips, circuits and low level code, my aesthetic is exceptionally lo-fi. 128 x 64 pixel screens are the norm. Color usually means one or two at a time on black. I'm definitely the lo-fi guy.
For me, it's all about working within the constraints of the tools, and pushing them to the edge of their capability. Until my recent Dos ASCII escapades, I sometimes felt like the folks with the GP2Xs, laptops, and Amigas were using supercomputers. That's just not my style. I'm more excited about hacking at the raw NTSC signal and getting a square on the screen than messing around with movie clips and giant background images.
Blip: Who are you most excited to see at blip? Why?
I'm dying to meet & see Sebastian Tomczak a.k.a little-scale. Sebastian has been a huge influence on my approach to the various chips and circuits that I use. You've gotta respect a guy who hacks like that.
Blip: Where do you see your progression as an artist heading? Deeper into your current style, or perhaps something different?
I've slowly been releasing some of my circuits as kits for people to build themselves, and this has inspired me to create more generative code. Currently my images modulate and change based on the audio produced by the musicians. The kits have inspired me to start looking at code that rewrites itself as I use it. Ideally, it could start autonomously producing visual patterns that I can't currently imagine.
VBLANK is performing visuals on all three days of blip. More info here.