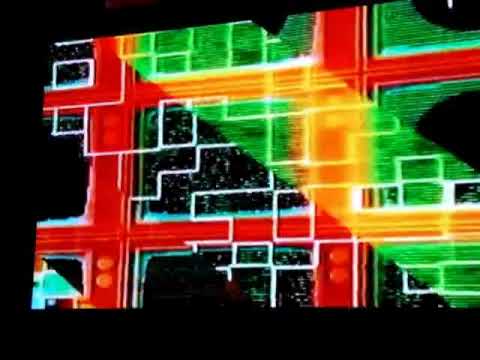 Bio:
10 years ago Sjors and Julian decided to call themselves The C-Men, and armed with 2 Amiga computers they carved out a name in the Dutch VJ scene doing many gigs, lectures, workshops and art installations; both in their native country and abroad.

After 5 years they split up, Sjors becoming one of the founders of the papertoy scene and Julian continuing the low-res visual crusade, making videoclips for people like Lenny Kravitz and founding the C64 Orchestra. Recently the two reunited for their 10 year anniversary with a devastating live set to show once more that they still kill the old way.
Blip: Before you began doing visuals, where you into doing any different types of art or music?
I studied art for about 6 years, 5 years of regular art school studying media art, and one year at a masters education. During art school we founded the c-men as a side project of a group called b.a.m.b.i., which stood for brilliant artists making bullshit incorporated. We made amiga animations and art installations, one of which included playing pong in suits in 1998 that was aired on national tv as well as art festivals in New york and Barcelona. We also did commercial work using the amiga for tv commercials, making parodies of oldschool games like prince of persia, outrun and california games.
Blip: How did you first become aware of the possibility of visuals, and doing them in the style that you are doing them now?
I had an amiga when I was in highschool and started doing animation stuff prior to artschool, and doing slide projections for my friends who made electronic music at the time. Then in artschool I saw a lecture from vj colleagues who wrote a vj tool for the amiga and that's what got me started. The possibility to change amiga animations in realtime realy captured my imagination at the time, plus electronic music was always the source of inspiration for animations, trying to translate intricate rhythms and moods into my work.
Blip: How does your background influence your current work?
I'm doing animation work professionally for quite some years, but having veejayed a lot has had its effect on that. There's usually a strong link with music in the work I make and generally the amiga visual stuff has been the starting point of my work as a visual artist, so there's always traces to the past.
Blip: Where do you see yourself in the greater chip music/art/visualist community?
In a room facing west
Above Bud Melvin (but under emar)
On Bit Shifter's shoulder whispering random obscenities in ancient hebrew
Blip: Who are you most excited to see at blip? Why?
Hmm…David Sugar because it's been many years since I saw him in London, Little-Scale because I love his projects, The Hunters because they're the hunters, Orbital because they made the brown album, the bass player from soundgarden because I don't realy have anything with them and basically everyone who's part of this scene in an enjoyable way because they're like my dysfunctional cousins.
Blip: Where do you see your progression as an artist heading? Deeper into your current style, or perhaps something different?
I recently made a new set for the c-men 10 year anniversary which incorporated some pc processed amiga visuals which looked kinda hot. I'm also still planning to continue on the msx program I wrote about 10 years ago during graduation. Waiting for the Msx Fair in January 2010 to have some programmer geeks look at it.  I also have a company with my brother called Het Videogilde which shows some amiga influences here and there too.
The C-men is performing visuals on all three days of blip. More info here.